Loglan is an artificial human language originally designed/invented by James Cooke Brown in the late 1950's. He worked on it for many years with the help and input of many volunteers.
James Cooke Brown in Beijing, April 1994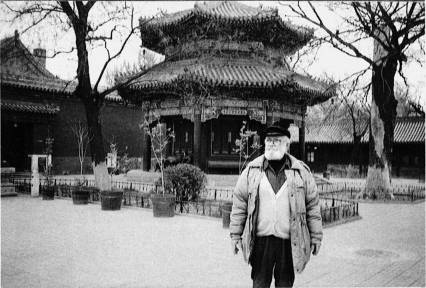 Vizka La Spat
For those who have never seen Loglan before.
A Cartoon in Loglan by Rex May.
Lo Logla Plipursei
A simple original Loglan composition about the pain of memorization.
Ne Clina Fora
A four line poem from The Rubaiyat of Omar Khayyam, 1st Ed.. Translation by Robert McIvor and friends.
Na Lepo Mi Pa Hirti Le Cirflo Tarsenmao
A Walt Whitman poem, translated by James Cooke Brown.
Ne Dristu Je La Helas
A humorous, true story about traveling in Greece, by Robert McIvor.
Ne Rorlensia
A humorous, true story about languages, with a collegiate setting.
Ne Logle Po Lerbatmi
Some correspondence about Loglan in Loglan, between the Two Jameses.
Le Fidsesmao Kamkystu
A funny story about Physicists as told by Dr. Leon Lederman. Translation by JCB.
Le Fidsesmao Kamkystu Lerci
A letter, in Loglan, which comments on the funny story about Physicists.
Ne Tradu Stuci
A true story about U.S.-Korean relations, by Kirk Sattley.
La Nu Stucue Je La Mioskun (The Dormouse's Story)
A passage from Alice in Wonderland by Lewis Carroll.
A Selection From Sophie's World
An excerpt from the philosophical novel Sophie's World, by Jostein Gaarder. Translation by Alex Leith.
Nepo Neri Vizgoi La Loglandias (A First Visit to Loglandia)
A story about someone traveling to a Loglan-speaking country, by Alex Leith.
Notes on Nepo Neri Vizgoi La Loglandias (A First Visit to Loglandia)
Robert McIvor has compiled the notes generated by James Cooke Brown and Alex Leith while preparing the novel First Visit to Loglandia, the first part of which appeared in La Logli. Notes for each chapter are posted, along with the original Loglan and English texts.
Many of the articles at Loglan.org were originally published in The Loglan Institute's newsletter Lognet. This list of the contents of each issue of Lognet has links to the main articles available here, as well as to additional articles of more historical interest. (More links will be added as time permits.)
More official information on Loglan is available from:
THE LOGLAN INSTITUTE, INC.
A Non-Profit Research Corporation
c/o Jennifer Brown
1701 N.E. 75 St.
Gainesville, FL 32641
U.S.A.
Phone: (352) 378-5655
Informal questions and comments about Loglan or about the content of these pages can be directed to the author of this page at:

There is also an electronic mailing list for general discussion and answering the questions of beginning Loglanists.
You can subscribe at the mailing list's web page.
This list is often rather quiet, but people are listening. So if you have a question, speak up.